Poetry is for Young People
I recently posted this video of Sarah Kay on my facebook page. Sarah Kay is a NYC-based spoken word artist, and in this Ted Talk, she speaks to the way "spoken word cracks open locks" for young people. She relays stories of the students she's worked with and how they learn to tell their own stories- eventually, after they've peeled off all the layers of "cool" attitudes through which they pretend not to care.
In the last 2 weeks, I have been blessed to work with students at Champlain Valley Union High School, Burlington High School, and the Young Writers Project. The highlight? Perhaps it was last night at YWP's "Performance Night," when a young man stepped up to the mic to share a hip hop song about  his mother- rapped over his own beat. Or maybe it was when the BHS student, who didn't want to share, read a poem about his love for his home country of Bosnia. Perhaps it was the CVU student who wrote a poem about baked goods. Maybe it was all those students writing. Heads down, pencils scratching, everyone concentrating. My writing prompts are, no doubt, strange. I use guided meditation and visualization to ground participants in a topic and find the story that they most need to tell. My workshops used to be fairly traditional- learn names, warm ups, read a poem, give a prompt…. but then I trained as a Life Coach. In my training, we used a variety of visualization techniques to help clients find and deepen in their life's purpose and desires. I realized that the same techniques could be used to identify our most important stories, and I began writing my own guided meditations for use in the classroom. They became writing prompts. I approach this process nervously every time. Will folks allow themselves to enter the visualization? They didn't come here to meditate; they came here to write! My mind reels with the possibilities- students checking out, disengaging, or worse, laughing. But it hasn't happened. Regardless of whether I'm working with teens, college students, or full-fledged adults, the writers I've encountered are more than willing to embark on their inner journeys. I am overjoyed to bear witness to such a process. Young people using writing for self-discovery- now there's a highlight.
Here are some photos from my recent workshop at Burlington High School. I did some writing alongside them. You can check out the video of what I wrote on youtube. This is my 18th poem out of 30 in the 30-30 challenge. For more information on 30-30, visit http://3030poetry.com. (While I'm not participating via the official website, you can check out all of my 30-30 poems on Facebook).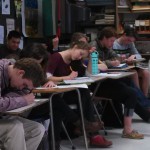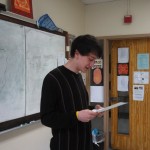 Other Exciting News:
Last night, I attending the release party for the Best of the Burlington Writers Workshop Anthology 2013. I have two poems published in the book, which you can order here.
On Wednesday, I put in my order for 200 copies of my album, "Coming To!" Be sure to join us for the release party on Friday, April 26th 9pm at Arts Riot, 420 Pine St. Burlington VT. My dear friends (poet) Rajnii Eddins and (folksinger) Jean Rohe will join me onstage in celebration. $5.